How Do I Install Driver Assist?
Driver Assist can be downloaded and installed from the official Driver Assist website. Follow the instructions below to download and install the software:
Open your internet browser and go to https://www.driverassist.com/
From main window, under the Download page, click on the green button Download Safebytes DriverAssist.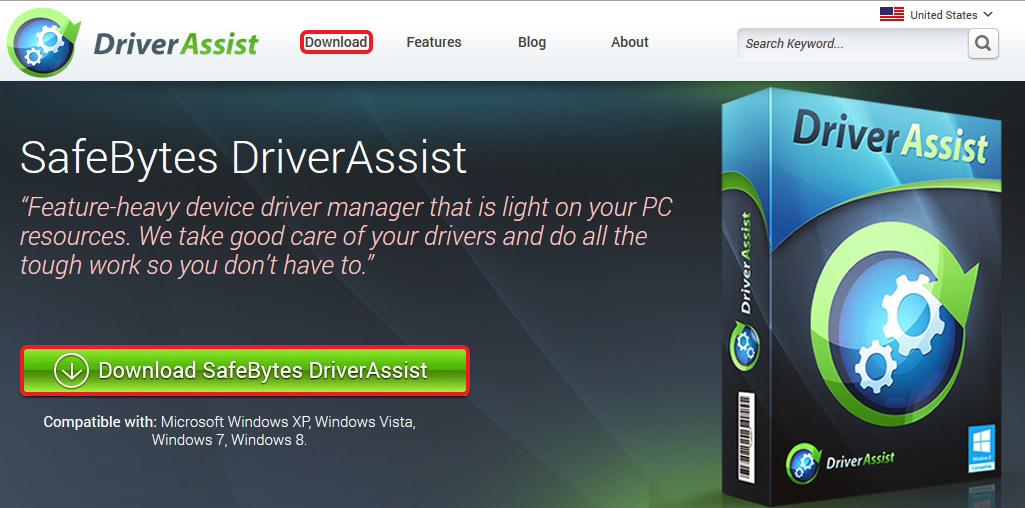 When prompted, select
Save File
or
Save to Disk
option on the dialog box. Note down the location where the file is getting saved. Once download is complete, locate the downloaded file and double click it to initiate the installation procedure. Follow on-screen instructions to install
Driver Assist
: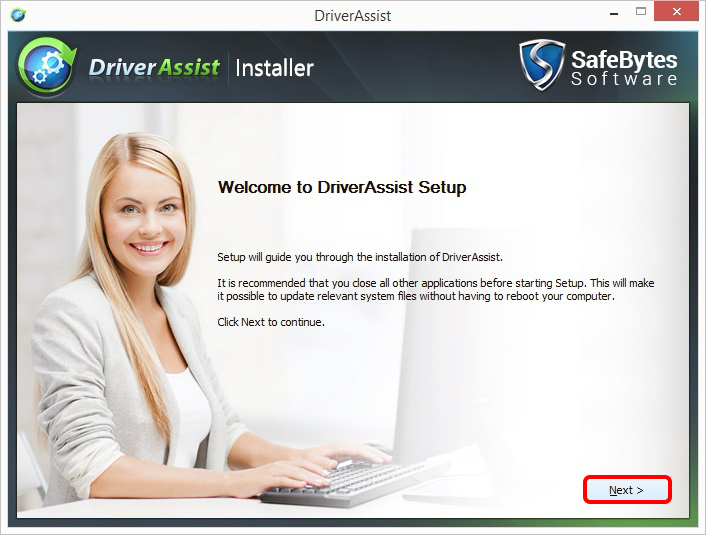 Click
Next
to continue.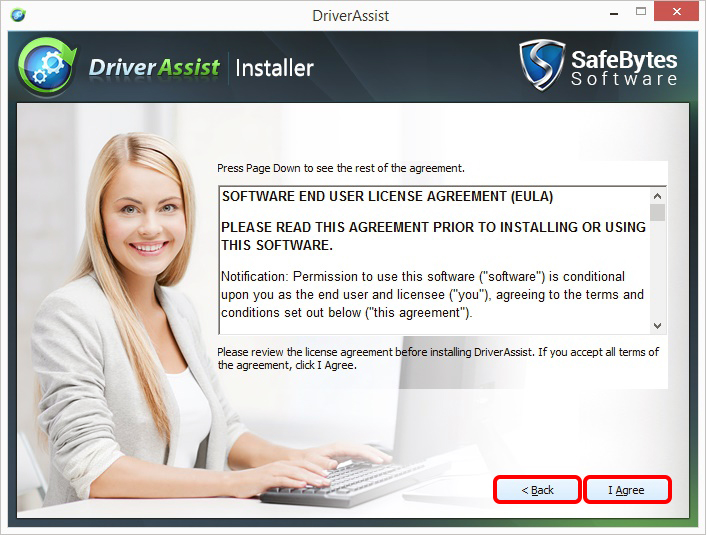 Read through the end user license agreement and then click
I Agree
to continue or click
Back
to go to the previous screen.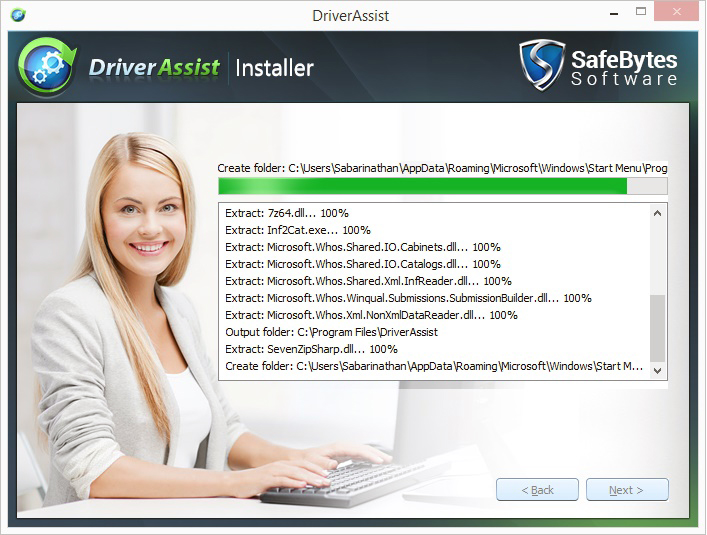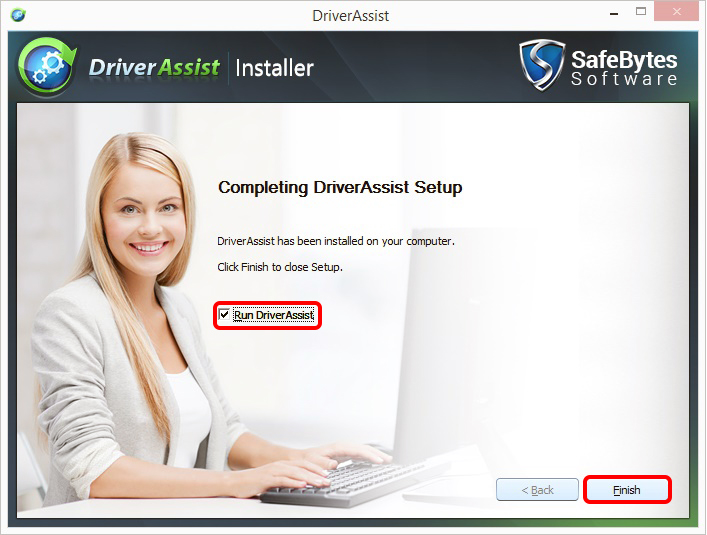 Click
Finish
to complete the installation and start
Driver Assist
on your computer.
How Do I Uninstall Driver Assist?
As a responsible software developer, Safebytes makes all of our programs quick and easy to uninstall. Full details are available on our
uninstall page
or with the following instructions:
1.
Navigate to your
Control Panel.
2.
Select
Uninstall Programs and Features
.
3.
Locate 
Driver Assist 
from the list of programs.
4.
Click
Next
and follow the onscreen instructions.
How Can I See If My Software Is Activated?
Launch
Driver Assist
 from the
Start
menu or Desktop shortcut. Once the main application screen is open, click the
License 
(1)
 tab from the top menu pane. You should see the word
Registered
(2 & 3). The
User ID
 (4) and
License Key
(5) will also be displayed on this page. Just below the key is the 
Expiry
. The registered
Name
and
Email
(6) will be at the bottom left portion of the page.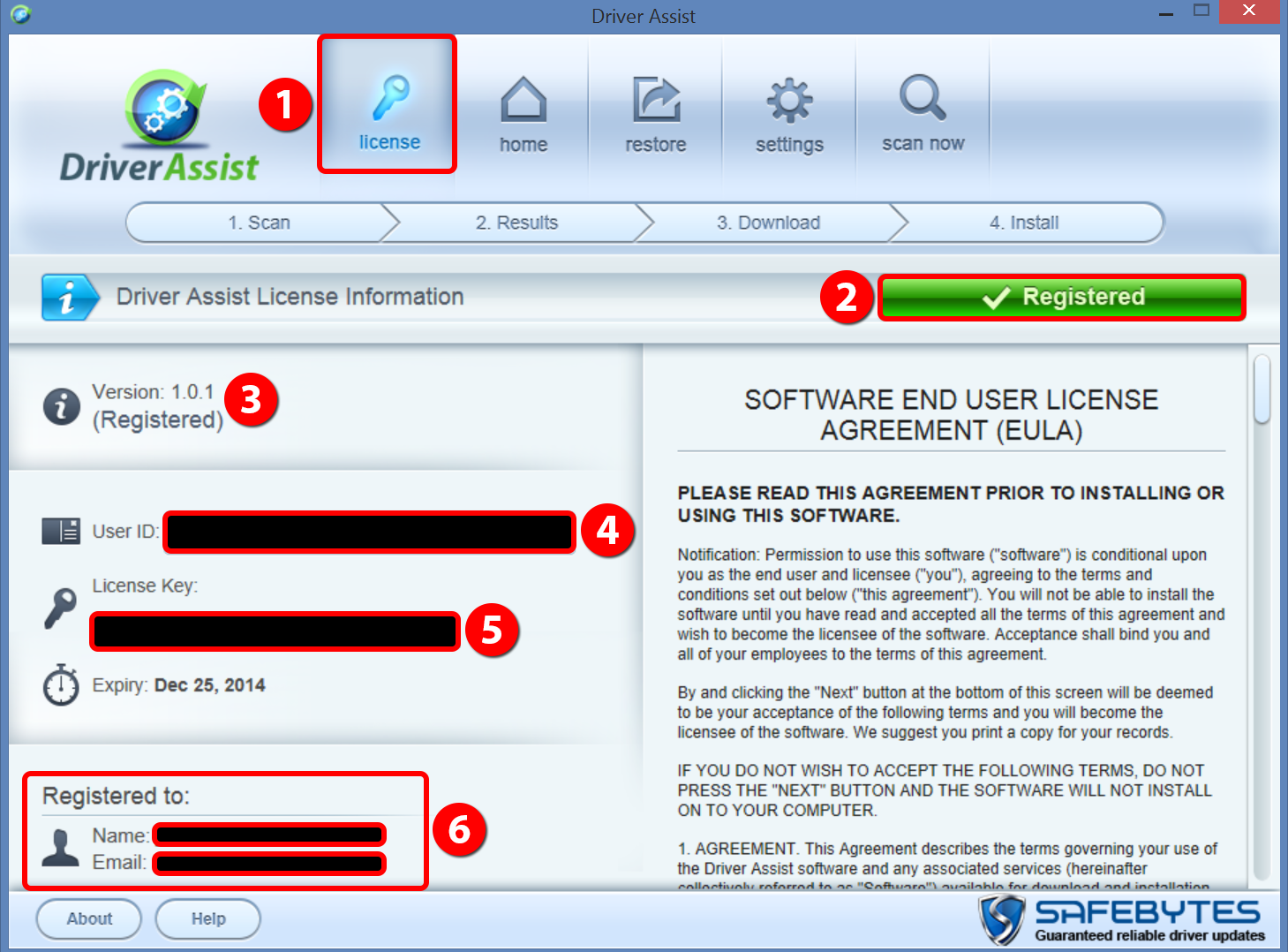 How Can I Purchase a Driver Assist License?
After installing
Driver
Assist
, you will be prompted to scan your computer for driver errors followed by a prompt to register the software. Click on the green
Register Now
button.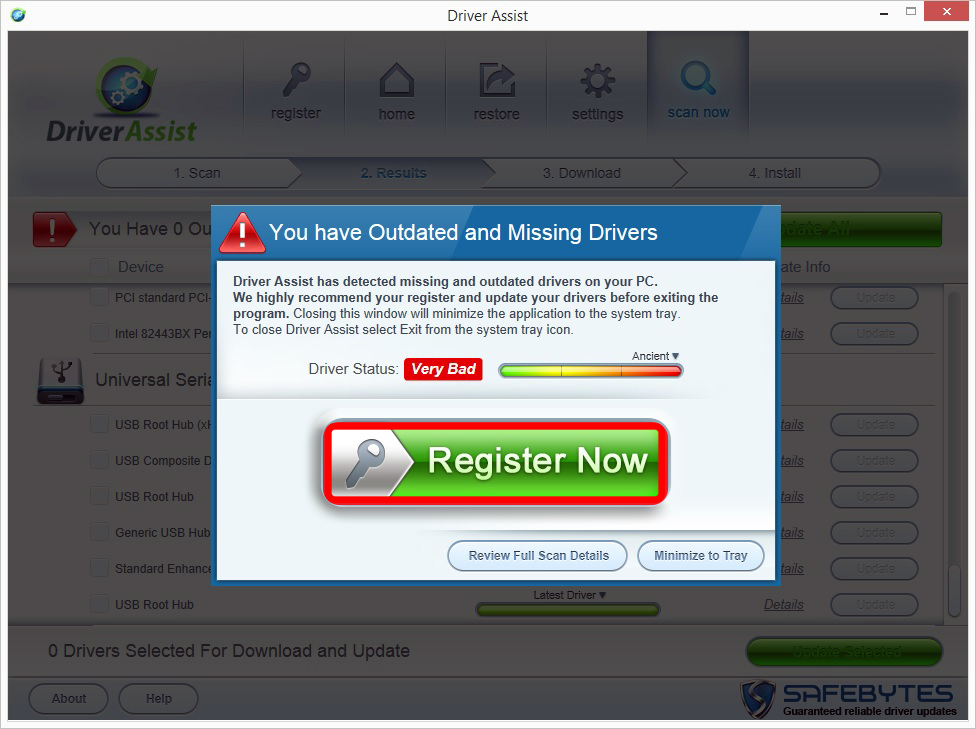 You should see a page asking you to fill-out a form:
Full Name
(1),
Email
(2) and
Country
(3). Only the first 2 are mandatory requirements. After that, just click on the green
Activate Now
button.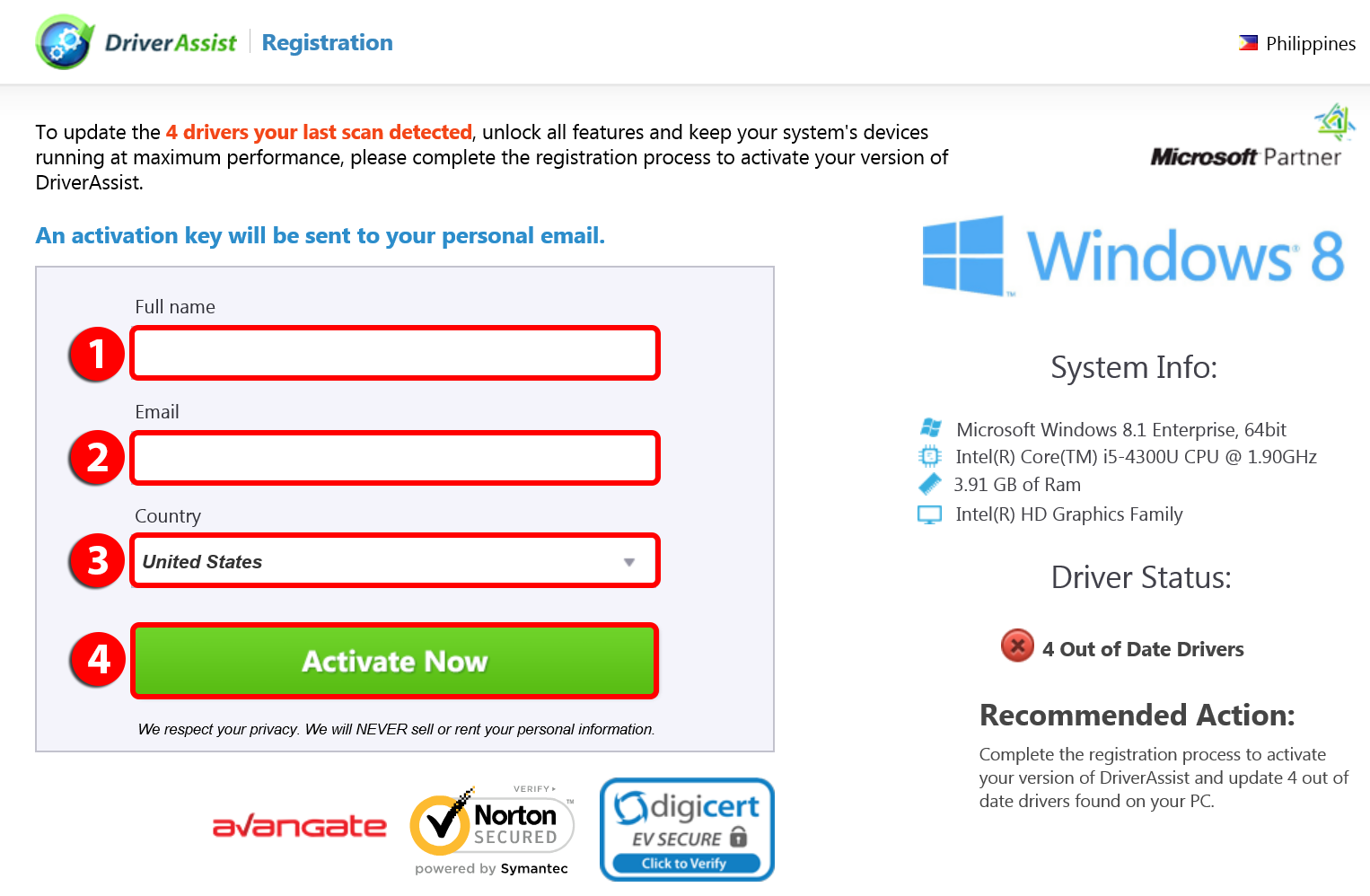 Click the drop-down arrow (1) and choose your preferred subscription:
Standard
(6 Months) or
Extended
(1 Year). You also have the option to bundle it with
Safebytes Anti-Virus
by clicking on the tick-box (2). Lastly, choose your preferred payment method:
Credit Card
(3) or
PayPal
(4) to proceed with the purchase.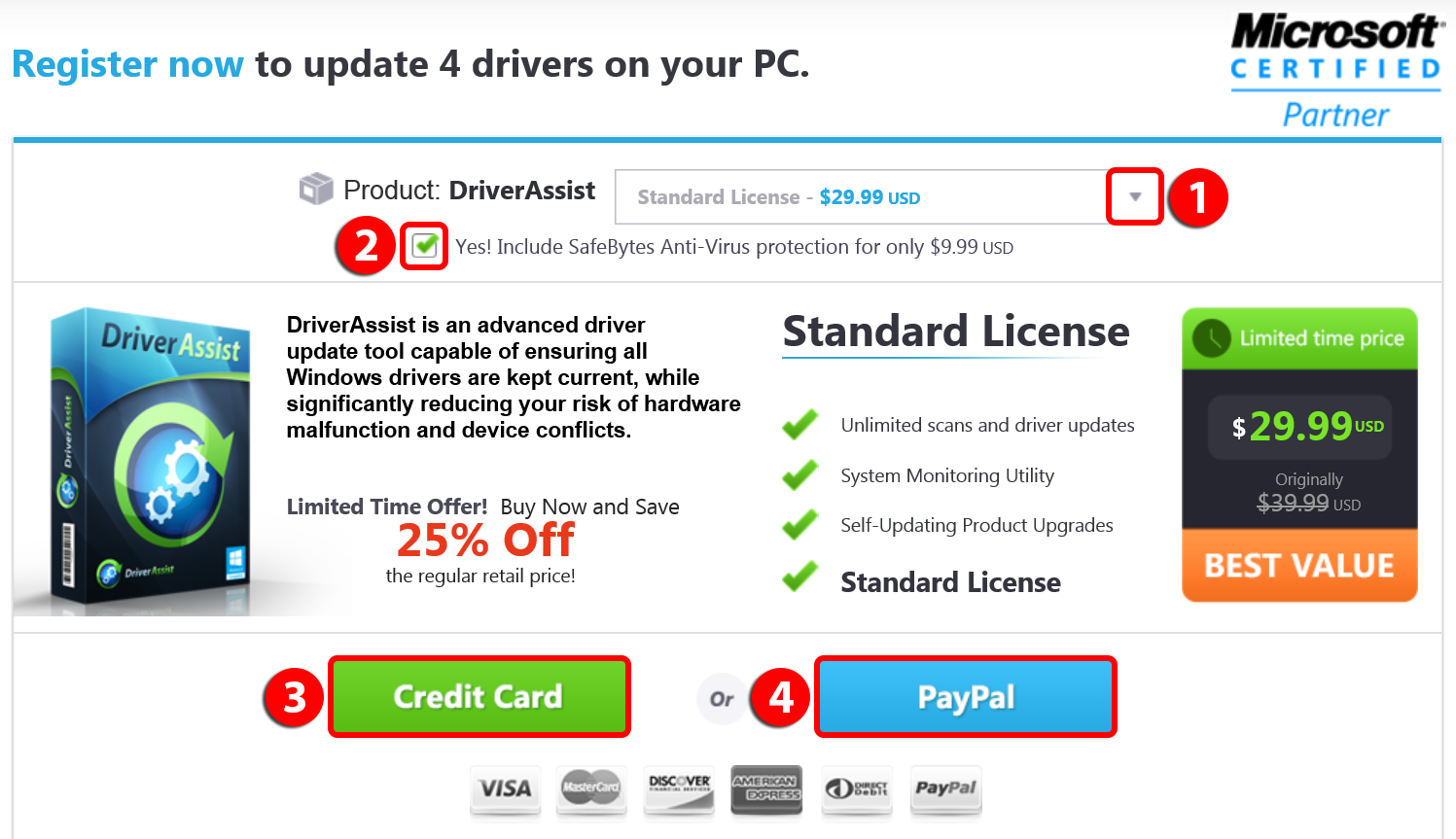 How Do I Contact Support?
Launch
Driver Assist
. Click on the
Home
tab then click the
Help
button at the bottom left part of the screen. Clicking
Help
will directly open the Driver Assist Customer Portal on your internet browser. You can either choose to contact us thru
Email
or
Chat
. For Email Support, kindly enter all the necessary information required (1) and click the green
Submit Ticket
 (2) button to automatically create a support ticket. Expect a response within 24 hours. For immediate support, please click on the green
Live Chat Now
 (3) button located at the bottom right side of the page. You should receive a response within the first minute, after you sent your first query.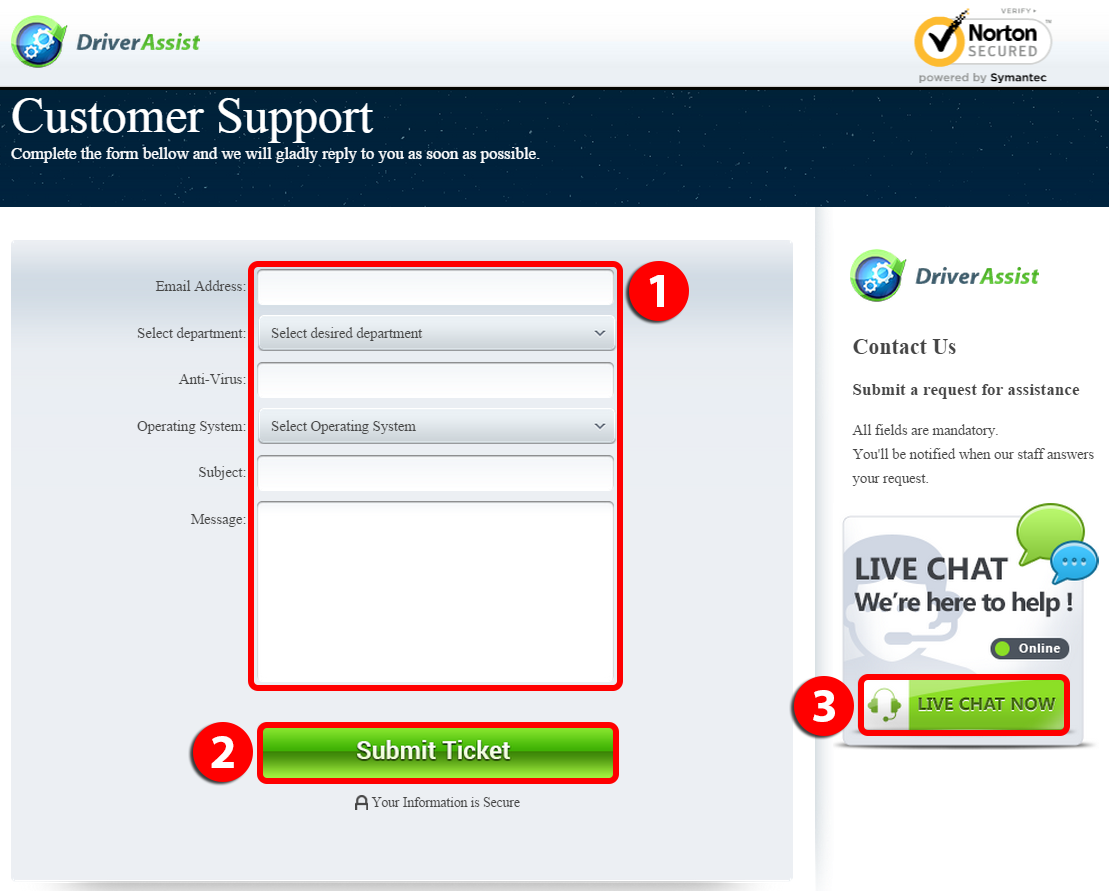 How Come I Can't See The Chat Panel On The Customer Portal?
Our Chat Support is available 24 x 7 during weekdays. However, during weekends, chat will not not be available round-the-clock. There would be instances where the chat panel won't even show on the portal. This only means that there is no support representative logged in during that time. You may, however, take full advantage of our Email Support, at any given time within the week.
Where Can I Find My License Key?
Launch
Driver Assist
 from the
Start
menu or Desktop shortcut. Once the main application screen is open, click the
License 
(1)
 tab from the top menu pane. You should be able to find your license key (2) information just below the User ID. Kindly save this information along with the registered
Name
and
Email
, found at the bottom of the page, as these are the pertinent details needed to pull up your account from our end.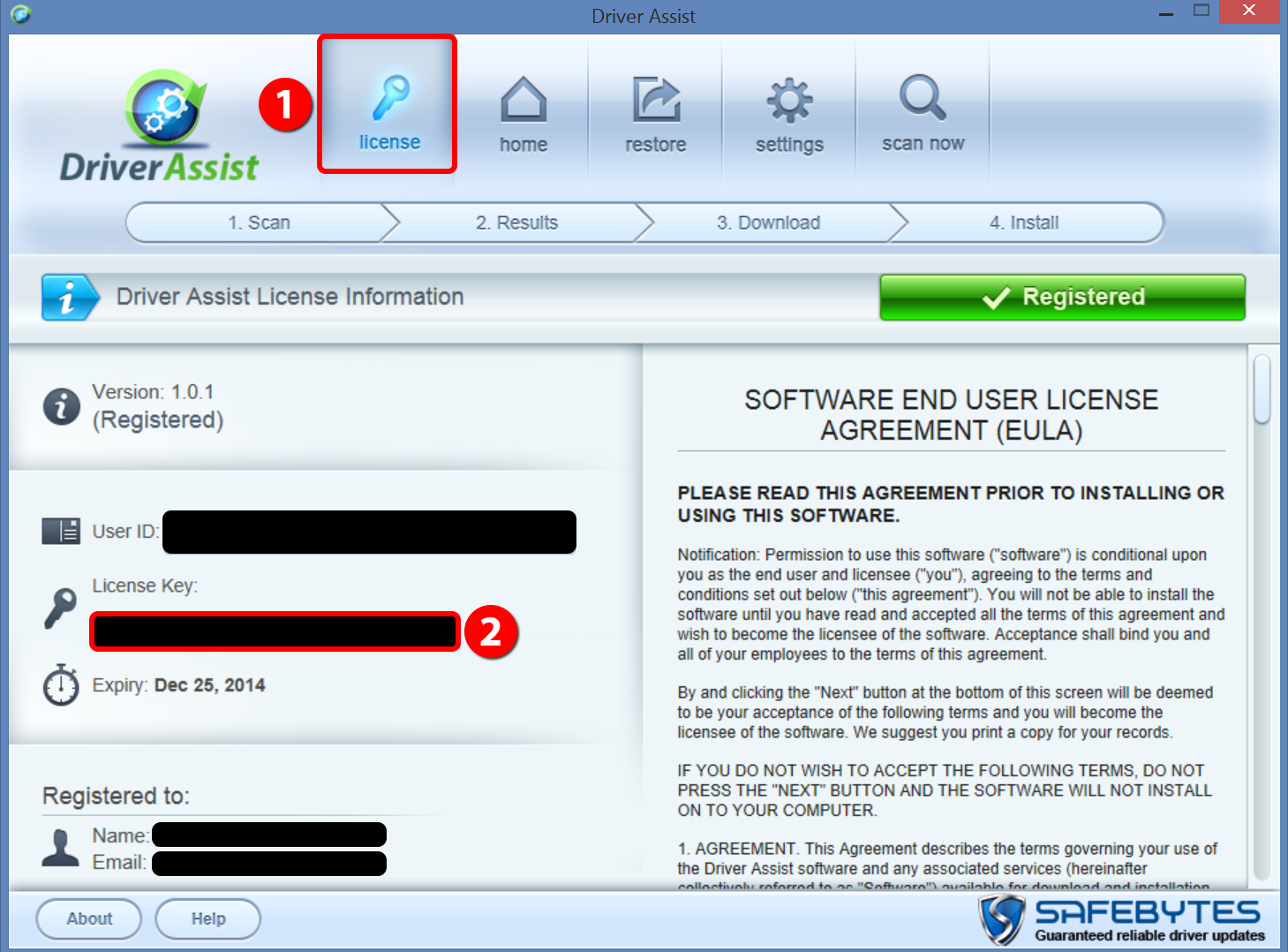 How Can I Update And Install the Latest Drivers For My Computer?
Launch
Driver Assist
 from the
Start
menu or Desktop shortcut. Once the main application screen is open, click the green 
Scan Now 
button from the top menu pane under the
Home
tab.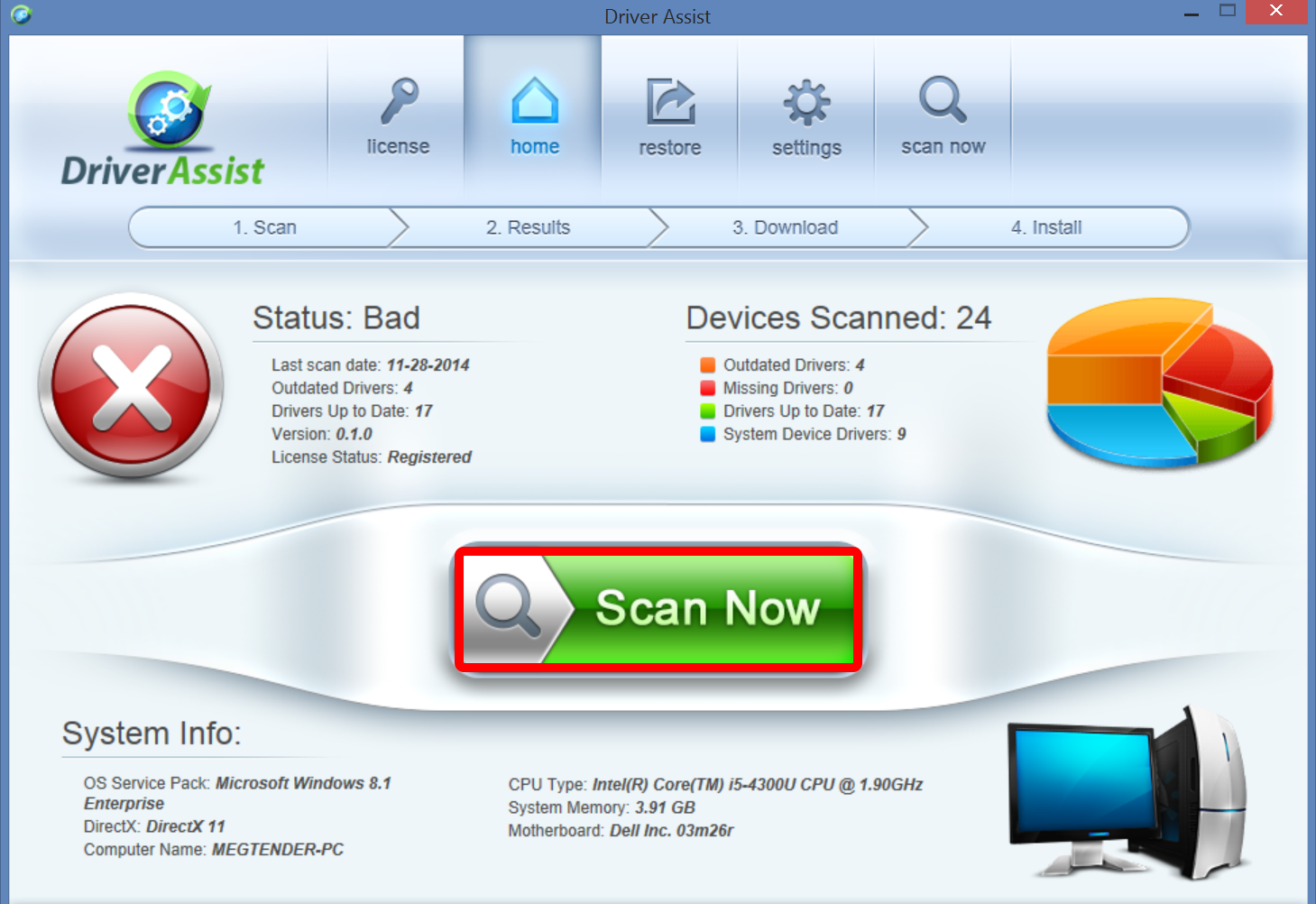 If you wish to update all the drivers, as per recommendation by
Driver Assist
, just click on the
Update All
(1) button. You also have the option to review which ones you would like to update first, by clicking on the tick-boxes one by one. Just click on
Update Selected
(2) to proceed.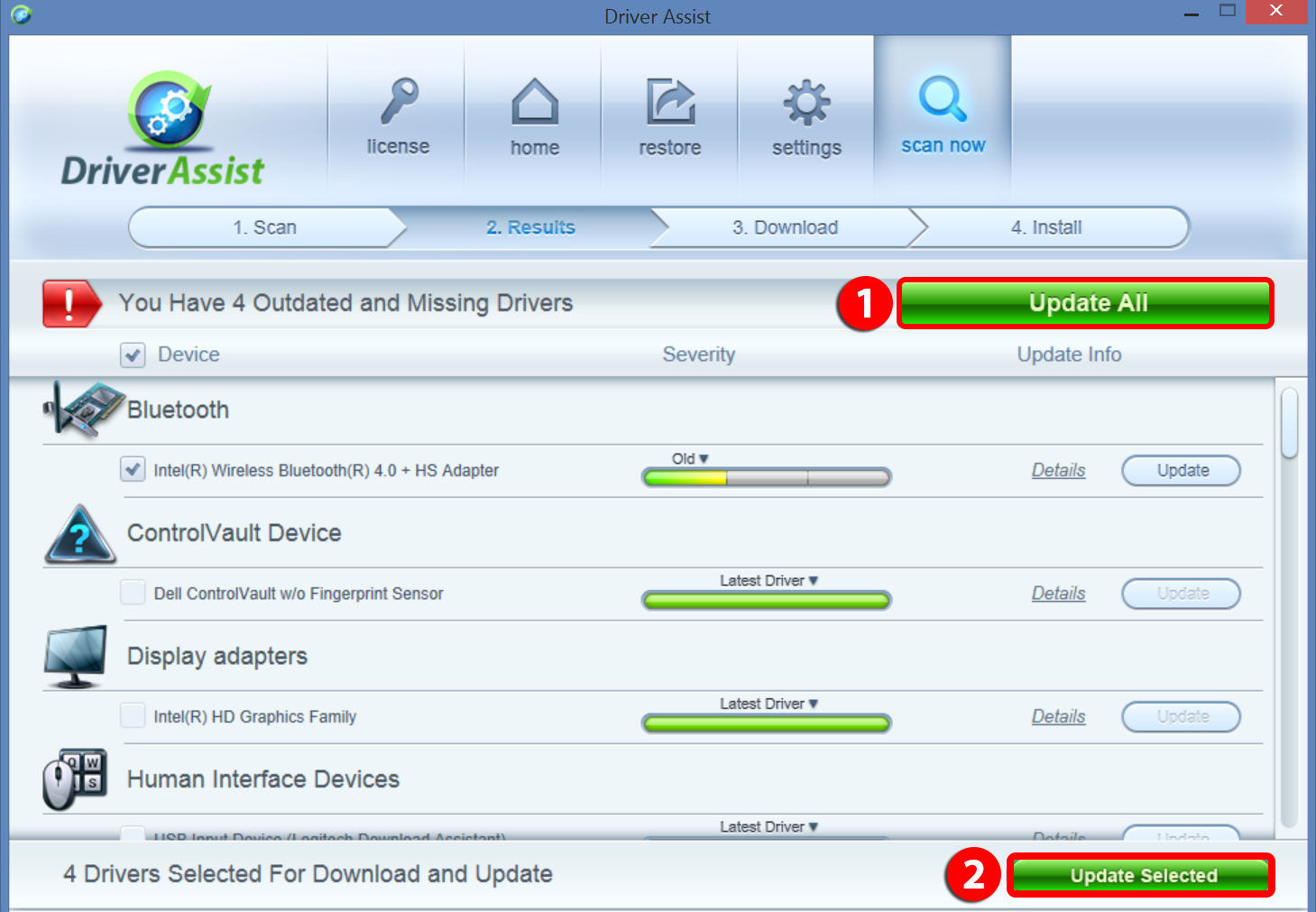 After downloading the latest drivers, you'll be presented with 2 options:
Install All
(1) or
Install Selected
(2). Proceed with the update according to your preference.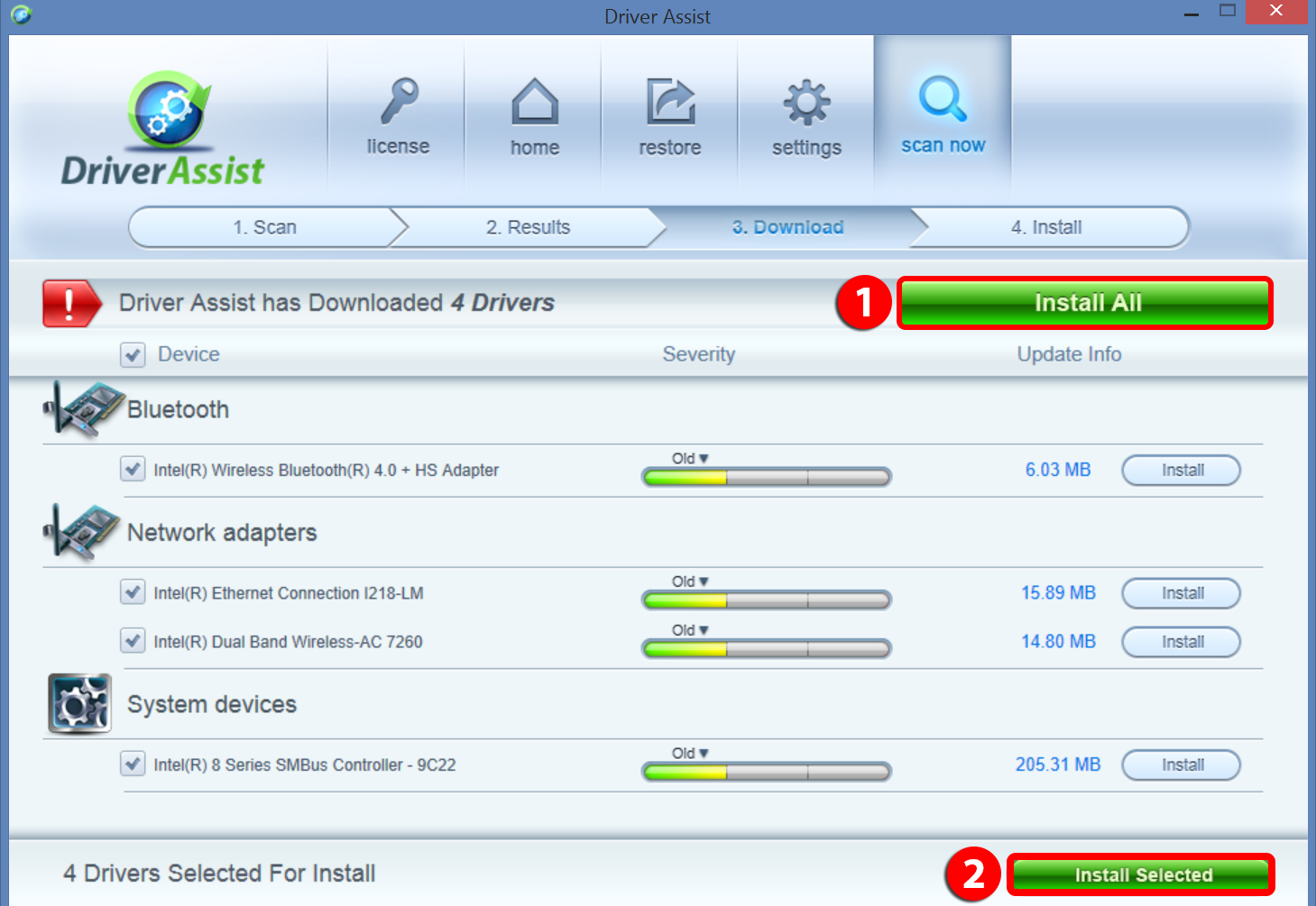 You will then be asked to create a restore point (1). It is always advisable to do a backup whenever you perform any changes on your computer. Just check the tick-box (2) if you want to keep this option every single time you do an update.

It recommended to do a
Restart
after the update. You may also choose to click
Cancel
if you want to manually do the reboot.

What To Do If Driver Update Failed?

The best way to deal with this notice is to click on
Contact Support
and submit a ticket on our portal.
Live Chat
may not be the best avenue for this type of issue. For us to look into this a bit further, we recommend that you instead
Submit a Ticket
on our portal to give us a better idea on what really triggered the error.
What Types of Subscription Do You Offer?
Can I Bundle Driver Assist With Safebytes Anti-Virus?
How Much Are Your Software License Subscriptions?
What Types Of Support Do You Provide?
We have a
24 x 7
Email Support 
through our Customer Portal, that can be accessed thru the
Help
button in
Driver Assist
. For the direct link, kindly check this
one
. You also have the luxury to
chat
with our courteous support representatives during weekdays, round-the-clock, if your concern needs immediate attention.
Phone support
 is not available as of the moment but will be part of our invaluable service in the near future.
How Can I Retrieve My License Key?
If you have uninstalled
Driver Assist
already and forgot to take note of the license key, you can still retrieve it by going to this
one
. Just enter the
Email Address
(1) that you used, when you purchased our software. Enter the
Verification Code
 (2) then hit
 Continue
(3).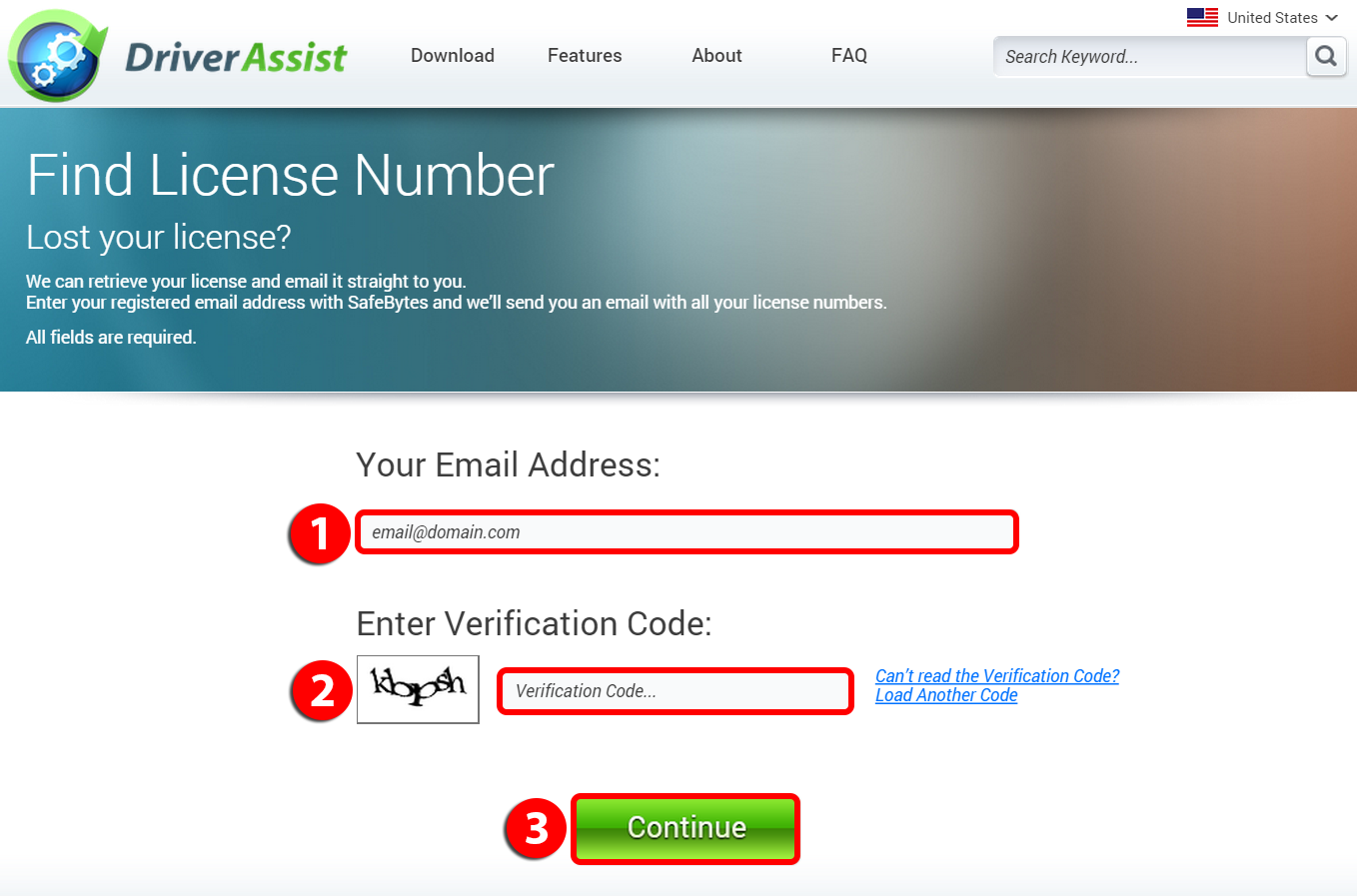 Can I Set My Subscription To Renew Automatically?
You can definitely do this during and after your purchase. While on the subscriptions page, you'll get a section like the one below, that will give you an option to set it to automatically renew.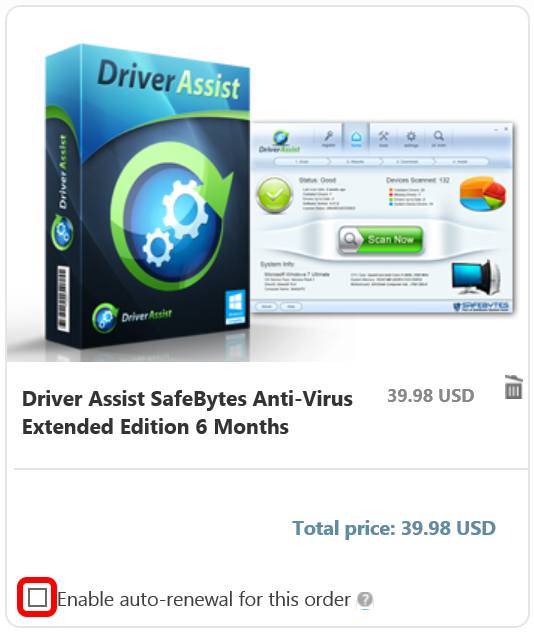 If you wanted to do the auto-renewal but was not able to do it during your purchase, you can opt to
Submit a Ticket
 on our
Customer Portal
so we can process the change for you. Pretty soon, you can do this on your own too! We'll keep you updated on this same post.
What Is Your Refund Policy?
We stand behind all of our products. Trust SafeBytes to provide industry leading customer support and transparent refund policies.

The initial purchase of Driver Assist software is backed by a 30-day unconditional money-back guarantee. In the event that purchase identification provided by the customer does not match a corresponding purchase of Driver Assist, the customer may be asked to provide secondary methods of purchase identification to locate their order and process the refund.
How Do I Request For A Refund?
Please feel free to contact us thru our Customer Portal so that we can assist you with your request. As long as it meets the requirements of our Refund Policy, then we would be more than willing to process it for you.

Thru the portal, you can either opt to Submit a Ticket about your request or you can also choose to chat with us. Either way, your satisfaction is our only concern.
How Soon Can I Receive The Credit For My Refund Request?
It would usually take 4-7 business days for it to be posted back to your account, after we process your refund request on our end. Kindly let us know right away, if you weren't able to receive your credit after the allotted time period so we can check the trail from our server.
How Do I Set Driver Assist To Scan Automatically?